Posts for tag: Dental Implants
By Gregory A. Rosecrans, DDS, PC
June 22, 2016
Dental implants are a revolutionary dental procedure which can overhaul your smile whether you have one gap, several gaps or no teeth at all. But what can dental implants do for you? Learn about the benefits of this popular tooth replacement option with help from your Bay City, MI dentist, Dr. Gregory Rosecrans.
The Benefits of Dental Implants
Dental implants are a permanent part of your mouth.
The implant's fixture is a small, titanium post which your Bay City dentist implants into the jawbone beneath your missing tooth. Over time, the fixture integrates with the bone, growing into and eventually becoming a part of it. With the fixture successfully integrated, it is a permanent part of your smile.
Your implants are secure in your smile.
Since the fixture integrates into the bone, it stays put. Unlike other tooth replacement options, implants do not use the surrounding natural teeth or gum tissue to stay in place. Dentures, which rely on suction or gravity to stay in the mouth, may move around or even fall out. Bridges use dental crowns and depend on the surrounding natural teeth to stay in place. Dental implants stand alone, relying only on successful implantation into the jawbone.
Dental implants are the next best thing to real teeth.
Not only will your implants stay in your mouth permanently, they will also look, feel, and function just like regular teeth. The part of the implant which replaces the tooth itself, called a dental crown, is made of porcelain. This material has the same light-reflecting qualities as natural teeth, providing a highly natural appearance. Additionally, the dental laboratory which creates the dental crown can color-match it to your natural teeth, allowing it to blend flawlessly with your existing smile.
Caring for dental implants is easy.
Caring for your implants is as easy as caring for your natural teeth. Simply brush your teeth twice daily for at least two minutes, or about as long as a song on the radio lasts. Be sure to replace your toothbrush when it begins to show signs of wear, usually about every month. Floss at least once daily. See your dentist for regular dental examinations and cleanings at least twice a year to keep your teeth and implants alike healthy.
For more information on dental implants, please contact Dr. Rosecrans in Bay City, MI. Call (989) 892-7832 to schedule your consultation for dental implants today.
By Gregory A. Rosecrans, DDS, PC
June 23, 2015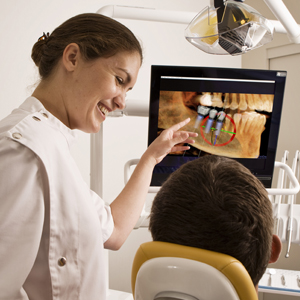 If you're considering different options for tooth replacement, dental implants are likely high on your list. Implants have a proven reputation for both durability and life-like appearance that can restore mouth function and revitalize your smile.
There is one aspect concerning implants, however, which gives people pause — the surgical procedure required to place the implants in the jawbone. If you're leery about undergoing this procedure we can put your mind at ease — for most patients implant surgery is a minor, pain-free process with little discomfort afterward.
While there are variations in style, implants generally have two major components: a titanium post that's implanted into the jawbone and a permanent life-like crown that's affixed 6 to 12 weeks after implant surgery. Titanium is the metal of choice because of its affinity with bone cells; over time bone will grow to and attach itself around the implant, a process known as osseo-integration. The metal post is normally spiral in shape, allowing it more surface area for bone to adhere to.
In the beginning of the procedure we administer local anesthesia to fully numb the area before proceeding. After accessing the bone through tiny incisions in the gum tissue, we create a small channel in the exposed bone. A surgical guide may be used to prepare the precise location for the implant with a series of drilling sequences that increases the channel until it matches the implant size. While this takes place, you should only feel a mild vibration and a little pressure from the drill.
The implants are then removed from their sterile packaging and placed immediately into the prepared site. The gum tissues are then sutured into place with self-absorbing sutures. Most people have only mild discomfort after the surgery that can be managed with a prescription-strength non-steroidal anti-inflammatory drug like ibuprofen. We may also prescribe antibiotics and other care instructions to ensure successful gum tissue healing.
With proper planning and precise implant placement by skilled hands, implant surgery is an easy and uneventful procedure. And, with your new crowns in place, your new, beautiful smile will make the experience a distant memory.
If you would like more information on dental implants, please contact us or schedule an appointment for a consultation. You can also learn more about this topic by reading the Dear Doctor magazine article "Dental Implant Surgery."
By Gregory A. Rosecrans, DDS, PC
April 10, 2015
When it comes to replacing missing teeth, dental implants have shown they're the leading solution in dental offices across the nation. That's because implants are the longest-lasting way to complete your smile, offering superior tooth preservation for your mouth. See here for more information on dental implants in Bay City, MI.
At Gentle Family Dentistry, you can have your missing teeth replaced under the guidance of Gregory A. Rosecrans, DDS, PC, who uses small, screw-shaped titanium posts to fit into the vacant root-area(s) left behind by your missing teeth.
Dental implants are a vital dental procedure not just for the appearance of future smiles, but also for your oral health going forward. That's because when you have missing teeth, your underlying jaw bone begins to deteriorate at an alarming rate. This loss of bone strength and function can lead to a shrinking jaw and other systemic health issues later that will become permanent if dental implants aren't placed to help improve the integrity of your jaw bone strength.
How Are Dental Implants Placed?
Dental implant surgery is surprisingly quick and non-invasive, simply requiring local anesthesia and healthy bone strength in your mouth. Your implant will be inserted directly into your underlying jawbone in the opening left behind by your missing teeth. Once the implant has been placed in your mouth, it is allowed time to heal and fuse to surrounding bone before you come back into Dr. Rosecrans' office for a lifelike crown to be placed on top of it.
Implants help restore smiles and overall oral health by:
Replacing one, some, or all of your teeth permanently
Improving jaw function and strength
Reducing contours in your face that will only become more exaggerated the more time your smile spends empty
Supporting removable dentures
Implants also boast a success rate of more than 95 percent, which is the highest percentage of all tooth-replacement options today.
For more information on dental implants, and how they restore your smile along with your oral health, give Dr. Rosecrans a call today at (989) 892-7832, for lasting dental solutions right here in Bay City, MI!